Sunday mornings at 10 a.m…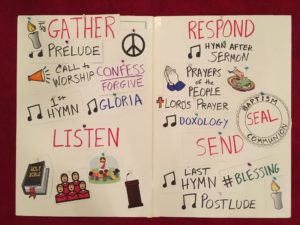 …we gather in Christ's name, centering ourselves for worship and greeting each other in peace
…we listen for God's Word, in scripture and in sermon
…we respond in song, in prayer, in offering
…we are sent into the world as bearers of Christ's Spirit and witnesses to God's love.
During this season of Covid-19 precautions, we are gathering for worship on YouTube LIVE. Services are recorded and posted to the website. For more info, see our Worship Online page.
Our worship style is traditional, but not at all stuffy!
We're open to the movement of the Spirit in our midst
We enjoy thoughtful, engaging preaching, grounded in scripture and connected to life
We sing old favorite hymns as well as lively new songs
We receive communion the first Sunday of the month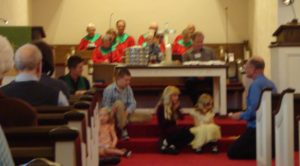 Children are welcome in worship! They join the adults for the first portion of the service, including a Children's Message. Then they gather separately for Junior Worship, led by the Christian Ed Team and Larry Stewart.
Nursery care is available for infants and toddlers for the duration of the service.