Rev. Margaret Fox has been Pastor of First Presbyterian Church since the first Sunday of Advent, 2016. Pastor Margaret preaches, presides at the sacraments, moderates the church session, works with the ministry teams of the church, and works to equip the congregation for the work of ministry. Not a cradle Christian, Pastor Margaret was initially drawn to scripture as a young adult through an encounter with the stained glassed windows of Gothic cathedrals in France. She later joined the Presbyterian Church (USA) and was baptized at the First Presbyterian Church of New Haven, CT. Pastor Margaret holds a joint JD/MDiv from Yale Law and Divinity Schools, and served as a hospital chaplain in Louisville, KY. An East Coast native, she loves books and the outdoors in equal measure.
---
Vinny Sauer has been Music Director at First Presbyterian Church since January 2016. He directs the choir, plays piano/organ in worship, works with the Worship and Music team to plan services, and composes/arranges new music for worship. Vinny was born and raised in Wisconsin with a Catholic background and has spent most of his life in music ministry, from singing in church choirs to cantoring psalms to accompanying choirs and congregations. He holds BM and MM degrees in Music Theory/Composition and is an adjunct professor at BGSU.
---
Selinda Schultz has been Christian Education Director of First Presbyterian Church since August, 2002. Selinda's current duties include leading Adult Bible Studies and encouraging learning and community. She was raised in the Presbyterian Church and was active in youth leadership while in High School. Marrying a Lutheran introduced her to the liturgical worship of the Lutheran Church in which she still participates. Selinda has a degree in Psychology from Ohio University. Her training in Christian Education came from many years of volunteer church leadership and Bible Studies as well as courses at Capital University. Selinda has spent most of her life in Ohio. She was married for 43 years before losing her husband to leukemia. She has three grown children. Selinda enjoys growing both flowers and vegetables in her large garden in the summer and knitting and crocheting in the winter.
---
Larry Stewart has been Children and Youth Ministry Coordinator since January, 2020. Larry has a background in Youth Ministry from his 18 years of experience at Park Church in Toledo, first as a teenager growing up in the program and then as a youth leader and staff trainee. Larry has a passion for mission, service, and youth ministry. Larry loves music and sports–especially watching, coaching, and playing football. Larry is very family-oriented; he loves spending time with his mom Sonya Stewart, grandma Beverly Stewart, girlfriend Addison their four-legged child Hershey.
.
---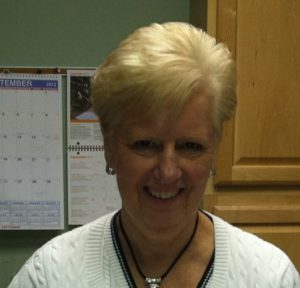 Linda Bristow has been the Church Secretary of First Presbyterian Church since September 2012. Linda provides secretarial and administrative services to the pastor, other staff persons and committee leaders. Linda worked as an Executive Assistant for large agri-business for 38 years prior to coming to the church. Linda loves spending time with her two grandchildren, family and friends.
---
Jay Salvage has been the Church Custodian for about two years. Jay is a life-long Presbyterian, growing up in the church in Coshocton, Ohio. He and his wife, Jo, and their three children joined Perrysburg FPC in 1985 and have enjoyed participating in many church activities. Jay is a retired social worker and is now working part-time as an alcohol/drug therapist in Findlay, Ohio. Jay enjoys reading, running, being with his children and grandchildren, and traveling, especially with Jo on their motorcycle.
---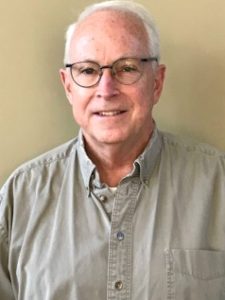 Tom Connolly performs the Financial Secretary bookkeeping services for First Presbyterian Church, including the preparation of the annual Giving Statements. Tom earned his bachelor degree from the University of Toledo, majoring in Accounting, and graduated in 1978. He then earned his MBA from Xavier University in 1990. Tom is a CPA licensed in Ohio. He's been employed at The Andersons for over 40 years. Tom lives in Perrysburg, is married with three boys, twins 31 years of age, and a 27 year old.